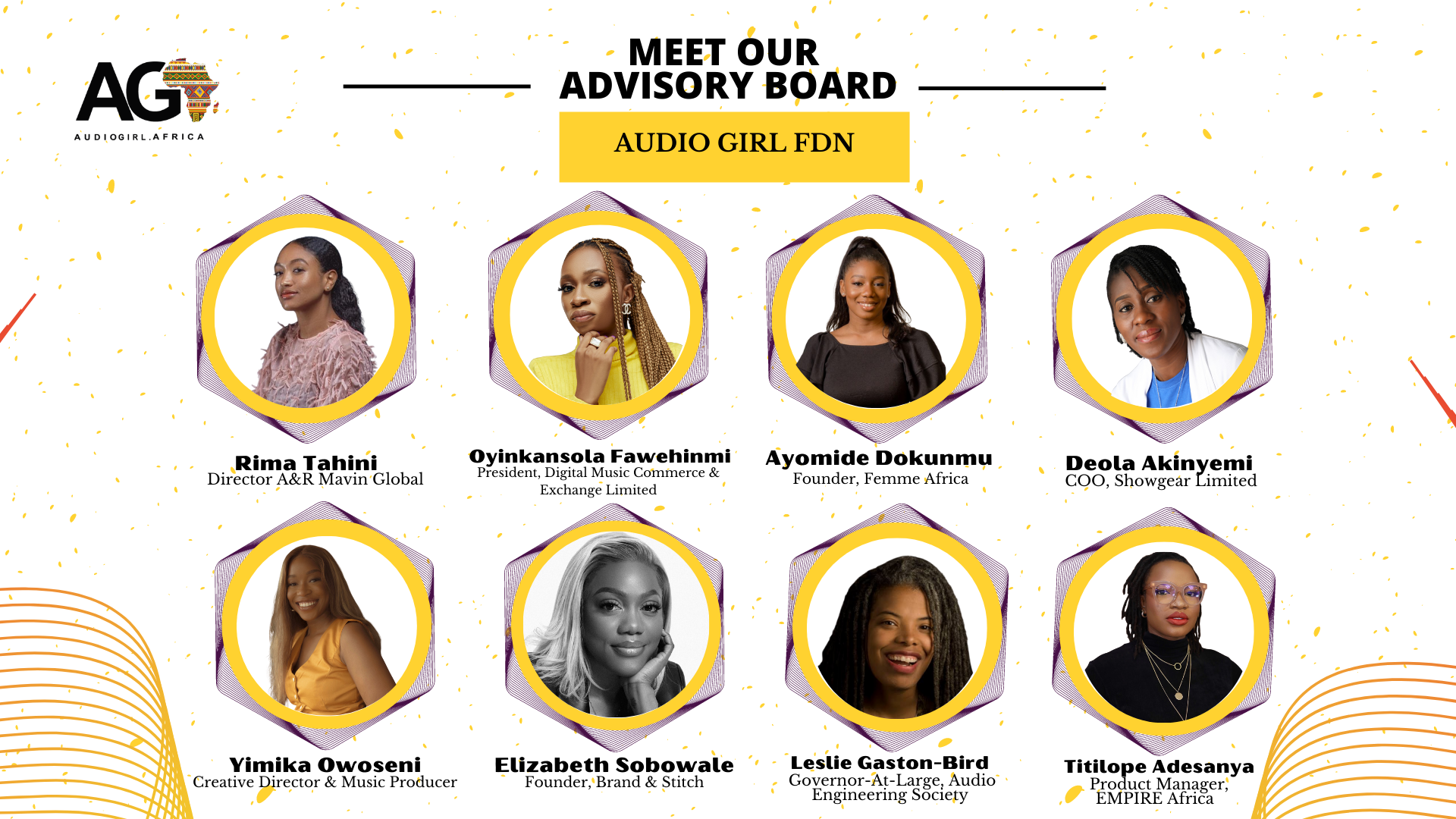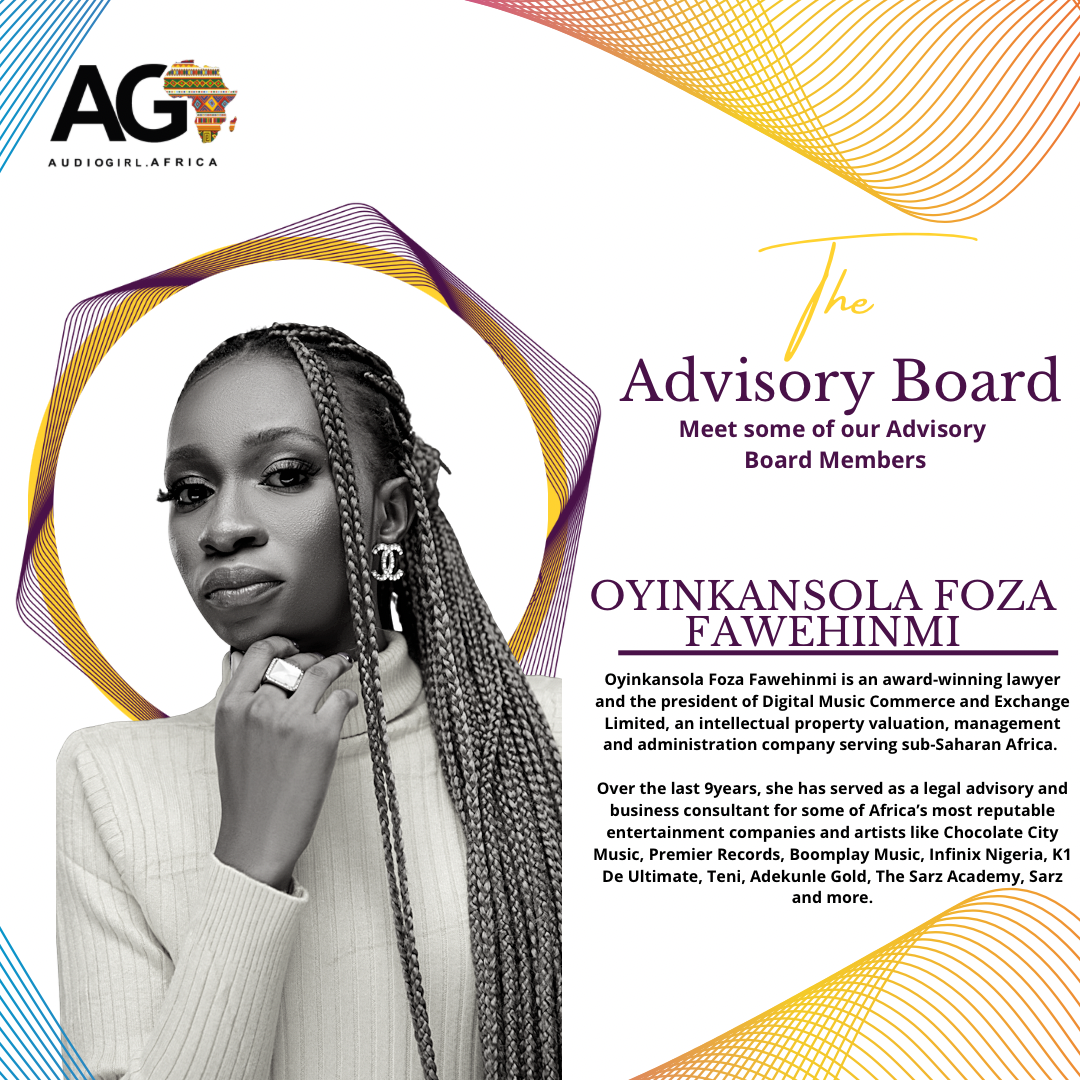 Audio Girl Appoints Her First Advisory Board Members
Audio Girl Foundation, A non-profit organization providing opportunities for young African women in audio technology and music business, is pleased to announce the formation of a Strategic Advisory board.
The board will be tasked with providing instant acceleration, significant support and superior guidance to further enhance the Audio Girl vision and mission, which is our commitment to increasing the number of young women in audio technology and music business across Africa by providing both educational and work opportunities and also access to a strong network.
Audio Girl's advisory board is made up of respected leaders who bring relevant experience, unmatched networks, and proven leadership. These individuals are a direct reflection of the company's vision, and its eagerness to offer adequate support to young female creatives looking to take on careers in Audio tech and music business. The advisory board – whose experience reaches across music business, audio technology, entertainment law, leadership, branding, finance and capital raises – will work closely with Audio Girl's internal leadership and advise on all matters relating to the organization's capital raising efforts, accelerated growth, existing project/programs development, and the delivery of future projects currently in development. Advisors include:
"I am elated to announce the formation of our advisory board today. The unmatched experience of this group leaves Audio Girl incredibly well-positioned to execute on our mission of empowering and equipping young African girls/women with audio technology and music business skills. We remain mission-focused and committed to providing the Audio Girl Community with adequate support and professional network to be able to scale up their careers in the music industry. I could not think of a stronger group of leaders to work alongside with on this journey. This is truly just the beginning for us," said Febe, Audio Girl Co-Founder & Chief Executive Officer.
About Audio Girl
Headquartered in Lagos, Nigeria,  Audio Girl is a non-profit organization that seeks to provide adequate support and access to quality training for women and young girls looking to start a career in Audio technology and music business. Audio Girl's goal is to promote equality, inclusivity and opportunity for young African women in music. 
Audio Girl positions itself to reinvent women empowerment in the Music and Entertainment Industry.
Meet Our Advisory Board 
Rima Tahini is the director of Artiste and Repertoire (A&R) at Mavin Global, one of the biggest indigenous record Label in Africa founded by Don Jazzy. She is also a Senior Adviser at Kupanda Capital.

Rima was born in Sierra Leone to a Lebanese father and a Sierra Leonean mother. Due to the ten years long civil war that broke out in Sierra Leone the year she was born, her family became refugees and had to move around a lot; Rima grew up in multiple cities and countries, speaking four languages by the age of seven.

She has had a unique career trajectory from energy and finance to now developing musical talents. Rima graduated from African Leadership Academy in 2012, winning the Allan Gray Gold Prize for Excellence in Entrepreneurship. She also graduated with a degree in Business/Economics with highest honors (Suma Cum Laude) from Brandeis University in 2016.
Before graduating from university, she worked within the energy space at Tata Africa Holdings, Endeavor Energy Holdings and Symbion powers in Johannesburg, Accra and Lagos respectively.
After graduating from Brandeis, Rima joined Kupanda Capital 2016 and now works closely with some of Africa's most recognized names in music. Through her role as Director of A&R, she has played a key part in the development of one of the most successful names in the Afrobeats.
Olayinka Owoseni also known as yimeeka is a music producer, songwriter, sound designer and creative director. Co-founder of an experiential marketing company called kanawa.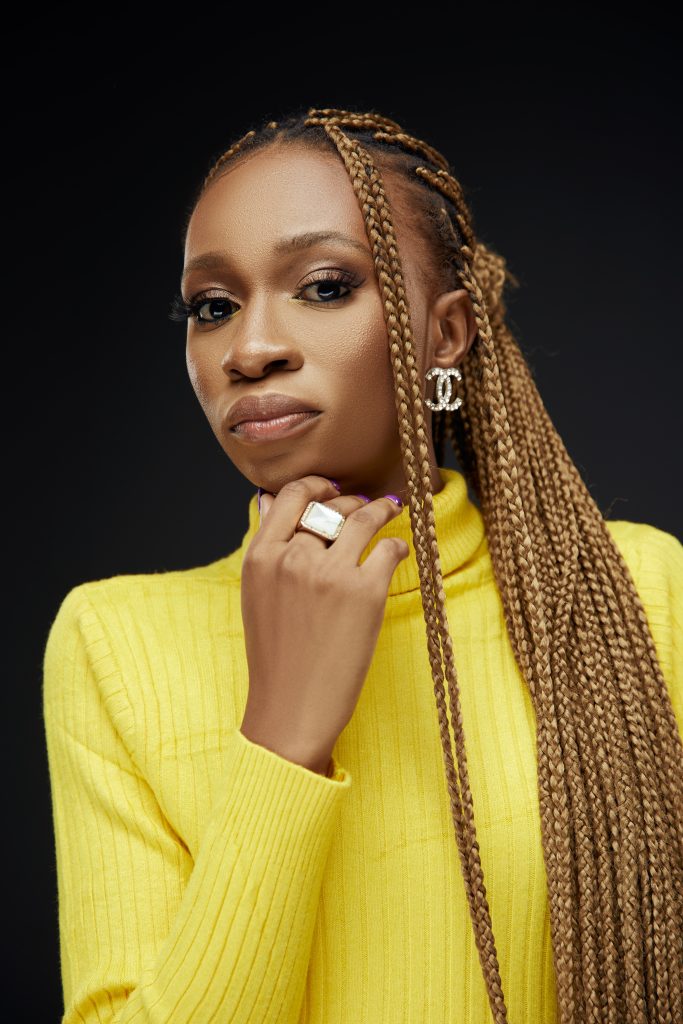 Oyinkansola Foza Fawehinmi is an award-winning lawyer and the president of Digital Music Commerce and Exchange Limited, an intellectual property valuation, management and administration company serving sub-Saharan Africa. 
Over the last 9years, she has served as a legal advisory and business consultant for some of Africa's most reputable entertainment companies and artists like Chocolate City Music, Premier Records, Boomplay Music, Infinix Nigeria, K1 De Ultimate, Teni, Adekunle Gold, The Sarz Academy, Sarz and more.
Leslie (CAS, AMPS, MPSE) is an Avid Certified Dolby Atmos Professional and Dante Level-3 Certified audio engineer specializing in re-recording mixing (dubbing) and sound editing. She is a former Governor-at-Large for the Audio Engineering Society, and author of the book Women in Audio.
She is a member of the Recording Academy (The Grammys®), Cinema Audio Society, Association of Motion Picture Sound (AMPS), and Motion Picture Sound Editors (MPSE). She has worked for National Public Radio (Washington, D.C.), Colorado Public Radio, the Colorado Symphony Orchestra, Post Modern Company, and was a tenured Associate Professor at the University of Colorado Denver.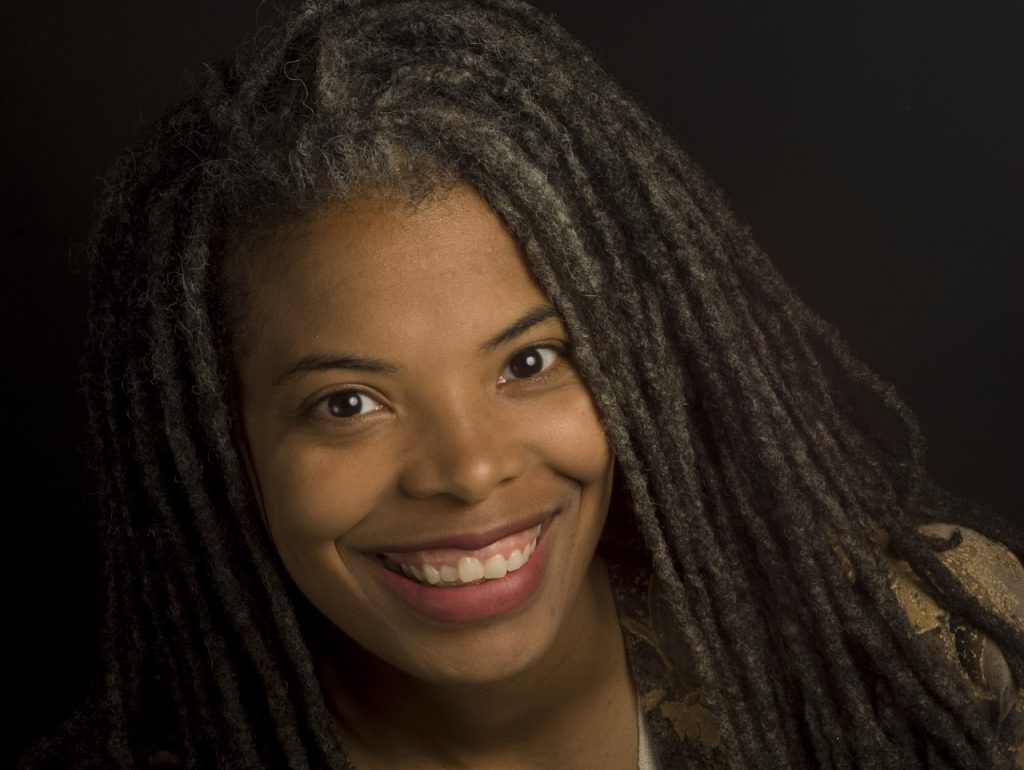 Adeola is the Chief Operating Officer of Showgear Limited, an audio/visual engineering company. She started her career with Zenith Bank Plc. in 2006 and continued advancing her career by acquiring a master's degree in business administration from the University of Lagos. She is also an associate member of the Chartered Institute of Personnel Managers of Nigeria.
In Showgear, she grew the organization from a six all male workforce to a 30 man workforce with over 30% female population, encouraging women to become players in the male dominated Audio/Visual Engineering space. 
She is the team lead of the organizing committee for Make Music Nigeria, an advocate group which promotes the celebration of the World Music Day in Nigeria. Every year since 2016, Make Music Nigeria collaborates with hundreds of artists and stakeholders to bring live performances and musical events to Lagos, Abuja and many other cities in Nigeria. 
She is passionate about people and her desire is to inspire people to live their lives to fullest. She unwinds by reading novels and has a flair for event planning and creative art.
Ayomide Dokunmu is the Founder of Femme Africa. Femme Africa is a womxn-led organization that seeks to provide a collective voice for womxn and break down gender-based barriers in Nigeria's male-dominated music industry.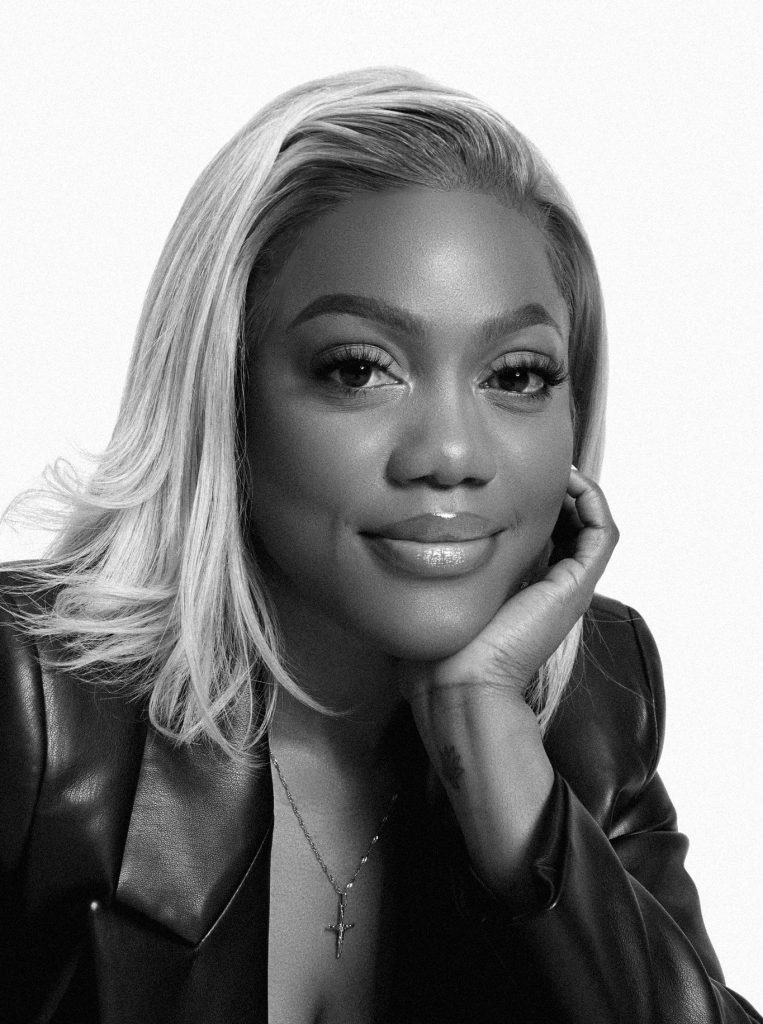 Elizabeth Sobowale is a brand, talent manager and a creative entrepreneur with a strong passion in promoting and amplifying African voices. She has over 7 years of extensive experience in branding, talent and project management under her belt and as a multi-disciplined individual, Elizabeth has executed several projects at management level relating to Brand development, Marketing, Tour Management, Public Relations, Creative Direction and Promotions.
Elizabeth has spent her entire professional career engaging in projects on the continent. She is the Program Director for Music Business Academy for Africa. Her newly founded management and partnerships agency; Brand and Stitch manages and develops the careers of Actors, Artists, Presenters and Creatives of African heritage within and outside of the continent. 
Her desire to serve the continent further encouraged her to undertake a Masters Degree in African Studies at the School Of Oriental and African Studies. Elizabeth's mission is to be a driving force in the development and amplification of the creative and cultural industries in Africa through education, training, policy implementation and funding. She believes that Africa's creative and cultural industries, if developed, can contribute to the continent's socio-economic development and drastically reduce youth unemployment.
Titilope Adesanya is the Product Manager at EMPIRE Africa.